Welcome to the home of the Luton Paranormal Society
Celebrating 15 years of Paranormal Investigation
The Luton Paranormal Society has been investigating the world of the paranormal since 2003.  We do not limit ourselves to investigating haunting's.  We investigate everything under the paranormal umbrella including Big Foot, Crop Circles, UFO and Timeslip activity (see bottom of page) .  If it is Paranormal then LPS is there to investigate. We hope you enjoy our website and thank you for looking.
 This website contains a number of pages  as follows;
Guidance for members – (Members access only).

Forthcoming events – (Members access only).

Film of Investigations.

Photographs taken on investigations.

EVP recordings captured on investigations.

LPS investigation reports.

Blogs – For those who just want a brief synopsis of investigations.

Media /Press – LPS as seen in the public domain.

Paranmormal experiences from members of the public.

Merchandise – (Members access only).

Membership £5 per year – Interested in joining ?

Web Links – Links to other organisations.

Need our help – LPS does not charge a fee to help you.

Contact us – Need more information then contact us for a personal reply.
 Up next  for members – RAF Henlow
This is a joint investigation on a fully working RAF Base with members of the RAF

Also
Bromham Investigation
Pictured Below; photo taken at our Turweston investigation
LPS Involvment in the media
Above: Paranormal Diaries Clophill Featuring the Luton Paranormal Society and its members who took part in this film.  The film had its international release at the Canne Film Festival  and was shown later at the Empire Cinema in Leicester Square London as part of a weekend of Horror known as Fright Fest.  The film was then released onto DVD in this country and received numerous, highly complementary views.
 Interview with a Ghost Hunter Featuring LPS
Bedfordshire on Sunday Investigates with LPS
 Langdon does the Paranormal featuring LPS
LPS Investigation Footage  – Unknown light
LPS also investigates the following:
 Timeslips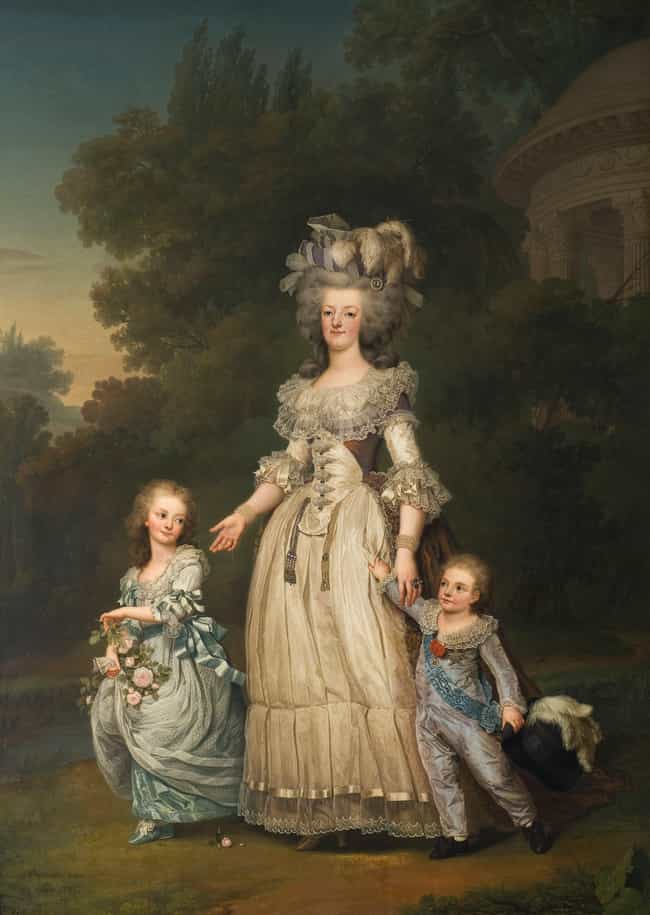 Photo: Adolf Ulrich Wertmüller/Public Domain/via Wikimedia Commons
What is the criteria for a time slip?
Technically speaking, a time slip is a paranormal phenomenon in which a person, or group of people, travel through time via unknown means. As with all paranormal phenomena, the objective reality of such experiences is disputed. Do you have a story to tell?
In 1901, two professors from St. Hugh's College in Oxford, England, went to visit the Palace of Versailles. Versailles was, of course, the French royal home until the monarchy was abolished in 1792. Marie Antoinette, one of the last royals to live there, was executed in 1793.
So on that day in 1901, when professors Anne Moberly and Eleanor Jourdain were walking the grounds of the palace, it's pretty safe to say they did not expect to see Marie Antoinette in the flesh just chillin' on a stool outside the Petit Trianon – a private retreat built for Antoinette by her hubby Louis XVI.
And yet, there she was, sitting and sketching and completely oblivious to the fact that two women were gaping at her and all the other people in 1780s period attire who had appeared just as suddenly as Antoinette.
Antoinette and everyone else disappeared when a tour guide approached Moberly and Jourdain. Together, they wrote a book, An Adventure, about their experience, and the story gained notoriety because of how grounded it seemed. These were two highly educated and well-respected women; they wouldn't just make up a story like that. So what was it, then? Did they actually travel through time? It's one of the most thoroughly reported, compelling, and famous time travel stories that can't be explained.
https://www.ranker.com/list/time-traveler-stories/jenniferlennon
What are Crop Circles?
Crop Circles are geometric patterns that appear mysteriously in crop fields. The crop is not cut, but is usually laid flat and most often swirled into an attractive floor pattern. Most patterns appear in cereal crops such as wheat and barley, but circles have been known to occur (in lesser numbers) in oilseed rape, maize, linseed, grass and even borage – to name a few. In the US many circles appear in soya, as it grown prevalently in that part of the world. LPS has been fortunete enough to have investigated a crop circle a few years ago. given the random nature of when they appear we consider ourselves fortunate to have had the opportunity
One Year Membership £5
Membership includes free access to outdoor and indoor events where possible.  A free members handbook, Car Internal Sticker and Metal pin on badge. For further information please go to our membership page.
Other LPS Social Media sites  
 https://www.facebook.com/LutonParanormalSociety
https://www.youtube.com/channel/UCrwlhxmWxerUYEprxzHkDtg
Copyright Notice
Information on this website is copyrighted to LPS where stated.  Please contact us for permission to use information. 
© [Luton Paranormal Society ] [2016]